s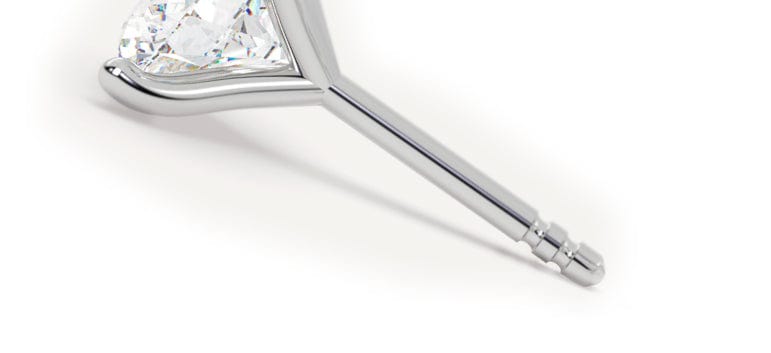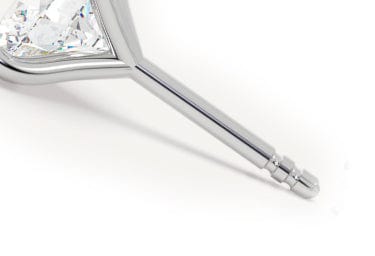 Butterfly Stud Earrings Or Screw Backs?
Mon, Oct 30, 2023
When it comes to diamond stud earrings, especially single stone studs, one pair can look very similar to another. Simple and straightforward, right? As with everything in life, the devil is in the details.
If you're investing in a quality pair of diamond studs, the last thing you want to happen is for your diamonds to get lost. Sturdy prong settings and earring posts will make sure that the stones don't come loose. But what about the earring actually falling out of your ears? 
Being one of the most ever-day essential pieces of jewelry, although it's best not to, most women will sleep with their studs. That means that they're going to be moving about more than during the day, even if we don't notice.
That's where the fastenings come in to play. The most popular options for stud earrings are screw backs and butterfly push backs. So which should you choose?
Screw back diamond earrings
Screw back fastenings are an excellent choice and can be a secure and comfortable way to wear your studs. There are, however, several downsides to having screw backs. The first is that it's more difficult to get a tight, fixed fit. With heavy earrings, such as larger diamonds, this can cause them to droop downwards.
As gold is a soft metal, inevitably, over time the screws will wear down and the fastening will become slightly looser - making them droop even more or even come out all together. And what happens when you want to replace the screws (assuming you didn't lose your precious earring)? Well, matching a fastening to your earring can be tricky as it needs to be a perfect measure. Too tight and it could get stuck halfway on to the screw. Too loose and we're back to square one!
Butterfly stud earrings (push backs)
As simple as butterfly pushbacks are, they're the most practical and comfortable on many levels. That is if you have high quality earrings and fastenings that won't bend out of shape over time.
The structure of the butterfly means that just enough pressure is applied to hold it snug in place close to your ear. And the simple smooth earring post allows for easy slip-on, slip-off. High-end earrings will have a double ridge in the posts so that if the butterfly is accidentally pulled out of place, they won't fall off all together. If you do happen to lose a butterfly fastening, they're easily replaced too.
Larger butterfly stud earrings will also prevent your diamond studs from drooping. As the larger surface of the butterfly backing supports your earlobe, the weight of the diamond on the other side is balanced out. 
We've been crafting fine diamond earrings for nearly 2 decades and have always offered both options to choose from. This is true today, however should you decide you'd prefer screw backs, please request so with your order.