s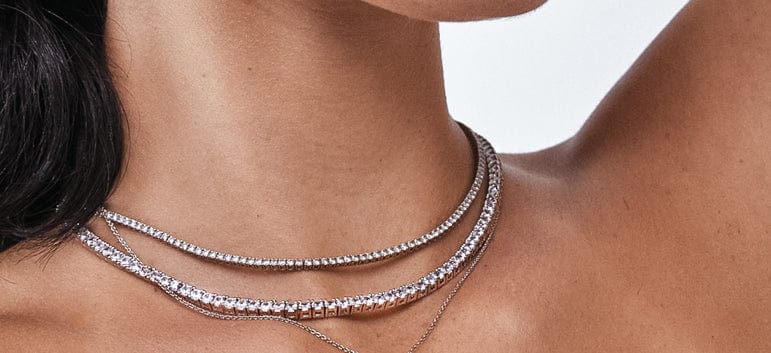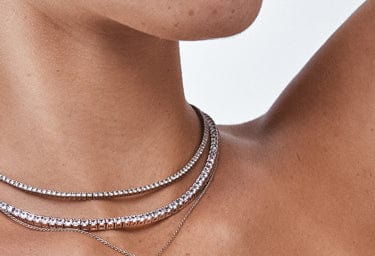 Diamond Tennis Necklaces: Spotlight
Thu, Nov 02, 2023
Diamond tennis necklaces are one of our most popular and yet more significant statement pieces. There's an abundance of diamond tennis necklaces out there, and to date, we're currently only offering one design of differing carat weights. Why? Because we've thought carefully about how to design for everyday comfort, enhanced aesthetics and lifetime durability. 
Diamond Tennis Necklaces - Collection
Essentially, we've done the homework based on 2 decades of diamond jewelry design and craft experience and made decisions that we believe offer the perfect balance between quality, price and beauty.
Let's delve into the details.
Tennis Necklace Diamonds
Carat Weight
We currently offer a choice of 3 carat diamond tennis necklaces and 5 carat diamond necklaces. The total carat weight is less important, rather the combo of our decision to set the diamonds only 3/4 of the way around (more of that below) and the carat weight or mm size of the small diamonds.
Our 3 carat necklace is set with 2mm diamonds which are approximately 0.03 carat each. With small diamonds the key is to consider the cost of setting the diamonds with the cost per carat and the overall aesthetic. High quality diamond setting, as opposed to with mass produced jewelry, is a skilled art that will both secure your diamonds better and make the overall piece look higher end - so this isn't something you want to compromise on. 2mm is the sweet spot for this size range as smaller than that is a clear compromise on the brilliance and presence of the diamonds and much smaller than that, the tennis necklace becomes relatively fragile. Larger than 2mm and the price starts to jump, especially with the natural diamonds.
The next size up that we'd recommend is 2.8mm diamonds, which are around 0.08 carat each. They're the largest size before an even higher price jump - with no obvious difference in appearance - before we reach 0.10 carat stones.
Diamond Shape
Nothing says timeless like the round brilliant cut. Other diamond shapes fall in and out of fashion, while round diamonds truly are forever. They offer the best brilliance-carat-size balance and when creating layouts of identically looking and measured stones for diamond tennis necklaces, they're the most consistent and cost effective too.
Lab grown or Natural Diamonds


We love both. And both are real diamonds after all.
With a lab grown diamond tennis necklace, you'll enjoy eco-friendly and ethically sourced, top quality, and more affordable diamonds. For the more traditional choice that will continue to hold its value over time, natural diamonds are the classic option, albeit a slightly more pricey one.
SI, VS or VVS Diamonds
While you could absolutely aim for a top of the range VVS diamond tennis necklace, is that the best choice for you? VVS clarity will guarantee that your diamonds are all completely clean, even under 10x magnification. But they're very expensive (lab grown diamonds can be a more affordable choice should you decide on VVS) and honestly they will look exactly the same as VS diamonds. When it comes diamonds under 3mm, you can comfortably go down to SI clarity with an excellent cut and still get the exact same aesthetic as VVS, which can cost as much as 2x the price. 
As standard, we select VS diamonds for our lab grown diamonds and SI diamonds for our natural diamonds. This is to maximize the quality and visible beauty, while keeping our diamond necklaces affordable.
Tennis Necklace Gold
As with most of our collection, our diamond tennis bracelets come in 14K white gold and 14K yellow gold. 
What about platinum tennis bracelets? Or 10K and 18K gold?
Platinum and 18K are softer than 14K and so in the long run, they're simply not as durable. Yes, they can last a lifetime and will absolutely look just as beautiful as 14K gold necklaces, however you are more likely to need maintenance such as fixing stuck links, re-adjusting the lock and replacing diamonds that can be knocked out of place.
10K is lighter and as hard as 14K, but the purity doesn't allow for the smooth clean surface that you see with 14K and 18K gold. 10K gold has more blemishes, pit-holes and porosity that will reveal itself within the first months or years of wear.
Our Tennis Necklaces
Triple lock
3/4 way round
4 prongs
smooth backing
Diamonds 3/4 Around The Necklace
One of the first decisions we made with the design of our diamond tennis necklaces was whether to have the diamonds 1/2 way around or all the way around.
A 1/2 way tennis means a larger area of plain gold and fewer diamonds which keeps the price down slightly, but the cut off point of the diamonds makes it less aesthetically pleasing.
Diamonds all the way around is beautiful, but comes with some drawbacks:
- Prongs are more likely to get caught in your hair and over time can cause diamonds to come loose.
- Having diamonds go all the way around increases the price while the extra diamonds at the back are hidden unless you have short hair.
- A full eternity tennis also makes length adjustments more difficult, should you want to increase or decrease the length.
With diamonds 3/4 of the way around, we get the perfect balance of price, beauty and practicality.
Triple Lock Fastenings
The last thing anyone wants is to accidentally lose their diamond jewelry. Thats why with all our jewelry, durability and practicality are build into the design. Gold and platinum are soft metals and naturally can wear, bend and break over time. Flimsy, thin designs use less gold and so have a more attractive price tag, but down the line are going to be more prone to damage and loss. 
In addition to a more robust setting, we've also added 3 safety locks to secure your necklace in place.
Comfort Fit Gold Tennis Setting
If you're truly going to wear your diamond jewelry every day, it absolutely needs to be comfortable! Our master goldsmith meticulously polishes every edge and surface for a silky smooth touch.
4-Prong Set Diamonds
We chose a secure 4-prong setting for our tennis necklaces and for most of our designs to minimize any risk of diamonds coming loose. Shared prongs risk losing multiple stones at a time, 3 prongs often have issues in the long term and 6 prongs are simply too much for this size diamond. A classic 4 prong setting is the sweet spot.
Diamond Tennis Necklace FAQs
How much is a diamond tennis necklace?
The price of a tennis necklace will depend on the quality of the setting, its metal  and purity, the carat weight, the type and quality of the diamonds and the design. The general rule of thumb is that a high quality diamond necklace should cost around $1500 per carat.
How to wear diamond tennis necklace?
Can you wear a diamond tennis necklace every day? Diamond tennis necklaces are such a classic, timeless and versatile piece that they literally will go with almost any outfit, any hairstyle and for any occasion. Perhaps the only rule would be not to cover it!
How to prevent diamond tennis necklace from flipping
The flipping of necklaces in general is a common issue and has as much to do with the design of the piece as it does the shape of your collar bone. You'll want to look for a tennis necklace with a flat base that has firm links so you'll want to avoid flimsy thin and light-made ones.
Ideally you'll also want your tennis necklace to sit either just above or just below your collar bone to prevent flipping, so adjusting the length can be one of the easiest solutions.
What makes a tennis necklace?
Similar to diamond tennis bracelets, a tennis bracelet is simply a row of diamonds linked together on a gold or platinum setting with a clasp lock at the back. There's no chain and no pendant.

How many carats in a tennis necklace?
Our collection offers 3 carat and 5 carat diamond tennis necklace options as we believe they offer the best balance of beauty, quality and price. However, you can find popular 1 carat, 2 carat and larger tennis necklaces from alternative brands.