s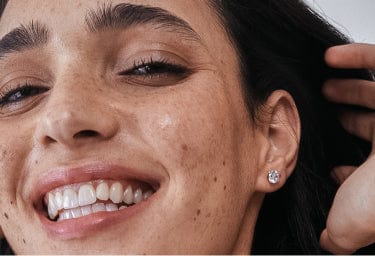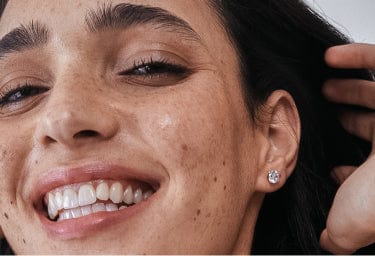 Stud Earrings Checklist - 19 Things To Look For
Wed, Jun 14, 2023
Choosing the perfect pair of diamond stud earrings involves more than just visual appeal. As a seasoned jeweler and head designer at Shiree Odiz, I understand the importance of comfort, durability, and security, in addition to aesthetics. Here, I'm sharing a comprehensive checklist of 19 key elements to consider when selecting your diamond stud earrings. Avoid losing your diamonds, drooping studs and discomfort by choosing the right quality and design.
Scroll down the list for unique, hardly mentioned, but critical points so you can enjoy your stud earrings for everyday life.


1. Diamond Quality
The diamond is the star of your earrings. As a practical rule of thumb, without going into the specifics of the 4 Cs, you'll want to look for colorless to white color grade, eye clean clarity (or close to) and at least a very good cut. This balance will ensure you'll have perfect looking diamonds with high fire and brilliance. Remember that the trade-off is always between carat, cost and quality. For diamonds in stud earrings you can comfortably go lower than you may tend to for an engagement ring.

2. Metal Quality
High-quality materials are the backbone of a long-lasting piece of jewelry. I recommend high-quality gold, preferably 14k or 18k or a minimum or 95% pure platinum.


3. Design of the Setting
Consider a martini-style setting. This cone-shaped design allows the diamond to sit closer to the earlobe, reducing any tendency for the earring to droop or sag.


4. High Quality Butterfly Fastenings
When it comes to earring backs, I prefer butterfly push backs. They're easy to use, and when designed well, offer a secure fit. They're also generally more comfortable for daily wear than other options. Furthermore, if you accidentally lose one, they're easily replaced.


5. Rounded Edges on Butterfly Fastenings
The details matter when it comes to comfort. Rounded edges on butterfly fastenings reduce pressure points and potential skin irritation, making them ideal for long-term, daily wear.


6. Soft-pointed Posts
You want your posts to be easily and smoothly inserted into your piercings, so the tip needs to be pointed. On the other hand, you don't want the point too sharp so that it digs into your skin on the other side! Look for pointed but softly polished post tips for the most comfort and practical wear.


7. Double Ridge Safety
A grooved or notched post improves the butterfly fastening's grip, providing additional security for your earrings, reducing the chance of loss. Safety ridges are used as a stop-lock to prevent fastenings from falling off all together. A double ridge is even better!


8. Ethically Sourced, Conflict-Free and Sustainable Diamonds
When choosing diamond stud earrings, the origin of the diamond should be a consideration. Shiree Odiz is committed to offering ethically sourced, conflict-free diamonds. We inspect every supplier, working with only a handful of sources to ensure a clean conscience.
Moreover, we also offer sustainable lab-grown diamonds. These diamonds are chemically, physically, and optically identical to mined diamonds but are created in a controlled environment. Opting for lab-grown diamonds is a great way to support sustainable practices in the jewelry industry, as they require fewer natural resources and create less environmental impact compared to mined diamonds.


9. Sturdier Earring Posts
Earring posts can be more prone to bending or breaking due to their thin nature. Sturdier earring posts, made of robust materials and designed with increased thickness or strength, provide a long-lasting solution that stands up to regular wear and tear. With stronger posts, you can wear them even overnight without worrying about them bending in your sleep.


10. Extended Wing Design
An extended wing design on the butterfly fastening provides better grip and leverage, simplifying the process of attaching and removing the earring.


11. Ventilated or Perforated Fastenings
Consider ventilated or perforated fastenings for improved airflow and reduced moisture buildup, enhancing comfort throughout the day.


12. Larger Butterfly Fastenings
By increasing the size of the base of the butterfly fastenings, your studs will sit more stably in place. Avoid drooping diamond studs that point to the floor instead of straight ahead.


13. Slightly Curved Posts
Although it may seem minor, a slightly curved post can greatly increase comfort. This subtle curvature aligns with the natural shape of your earlobe, reducing discomfort from the post pressing against your skin.


14. Hypoallergenic Metals
Especially for those with sensitive skin, ensure your earrings are made from hypoallergenic metals, such as 14k or 18k gold and 950 platinum, to reduce the risk of skin irritation and allergies. For white gold, always choose nickel-free as this is a fairly common irritant. These hypoallergenic metals are not only durable and resistant to tarnish, but also beautifully enhance the diamond's brilliance.


15. Customizable Engraving on Fastenings
Consider adding a personal touch to your earrings with customizable engraving on posts or fastenings. This unique feature allows you to personalize your earrings or add a significant symbol or date, making the piece extra special.


16. Double Claw Prong Setting
For extra security and peace of mind, opt for a double claw prong setting. This design offers both a secure grip on the diamond and a minimized obstruction of the diamond's surface, allowing more light to enter and enhance its sparkle.


17. Rounded or Tapered Prongs
Rounded or tapered prongs can minimize the amount of metal covering the diamond, ensuring a secure hold while enhancing the diamond's light performance and visibility. Tapered prongs that start wider at the base and run to a point at the tips can also increase the visible 'face' of your diamonds.


18. Suitability for Lifestyle
If you lead an active lifestyle, you'll want to combine a number of the above points for enhanced comfort and security. Strong and sturdy posts, high-quality butterfly push backs, double safety ridges, and martini settings. In addition, you'll want to consider how little or much your earrings stick out. Martini settings will reduce the height, as well as consciously setting the diamonds as low as possible to minimize the gap between the point of the diamond and the base of the setting. Smaller diamonds will naturally have less depth, so consider actually downgrading the carat size if you have a particularly active daily routine.


19. Professional Advice
Lastly, don't hesitate to seek professional advice. Consulting with a jewelry expert, such as myself or the team at Shiree Odiz, can provide valuable insight, helping you make an informed decision that takes into account all these factors.


Choosing the perfect diamond stud earrings is more than just a purchase; it's an investment in a piece of jewelry that should be worn daily and still last a lifetime. By considering these 19 key factors, you can ensure that your earrings will offer comfort, durability, security, and timeless beauty.
FAQs
What's the typical cost for 1 carat diamond stud earrings?
Diamond stud earrings for women, especially 1 carat total weight (1/2 carat each), begin at about $2000, depending on the diamonds' quality and the settings. You could find lab grown diamond earrings on sale for around $1000.


What should I consider when purchasing diamond stud earrings online?
Firstly, identify the carat weight that fits your style and budget. Then explore our comprehensive guide to understand the crucial design nuances for comfort, security, and durability in diamond earrings. Lastly, it's essential to choose a reputable jeweler that you can trust to deliver everything as promised.


Can you define diamond stud earrings?
Diamond stud earrings, sometimes referred to as diamond ear studs or diamond earring studs, are an elegant earring style where a diamond, often a round diamond, is the centerpiece, typically set on a post that goes through the ear.


How do I decide on the right size for diamond stud earrings?
To help you choose, we have a video guide available here. Ultimately, the best size for your diamond earrings depends on your personal style and budget. Both small diamond stud earrings and larger designs have their charm.


What's the ideal clarity for diamond stud earrings?
When looking for the perfect diamond studs for women, the mid to lower end of the clarity scale such as SI1-SI2-I1 can be more than sufficient. Aim for a matching pair for size and color, and high brilliance diamonds that will sparkle even from a distance. Perfect clarity isn't necessary for real diamond stud earrings as no one will be able to see the tiny details so close up to your ears.